JuVaughn Harrison achieved another impressive high jump and long jump combo at the SEC Championships in Texas on Friday (14).
First the 22-year-old recorded a world-leading PB of 2.36m to win the high jump before leaping 8.24m for second place in the long jump.
Competing for Louisiana State University, the US athlete added 6cm to the high jump PB he set when winning the NCAA indoor title in March, a height he had matched outdoors at the start of May.
He achieved it with a perfect record, too. Entering the competition at 2.17m, he cleared each height first time before retiring after managing his winning 2.36m.
Harrison had some strong competition from the University of Tennessee's Darryl Sullivan who matched his indoor PB with an outdoor best of 2.33m for second place.
Harrison then contested the long jump and leapt 8.24m (1.5m/s) in the first round, following that up with a leap of 8.22m (1.4m/s). After a foul, two passes and a final foul, he was unable to get any closer to his world lead of 8.44m set in Baton Rouge on 24 April and finished second after Jamaica's Carey McLeod soared out to a PB of 8.34m (1.5m/s) for the University of Tennessee in the final round.
Gittens' strong jumps for heptathlon win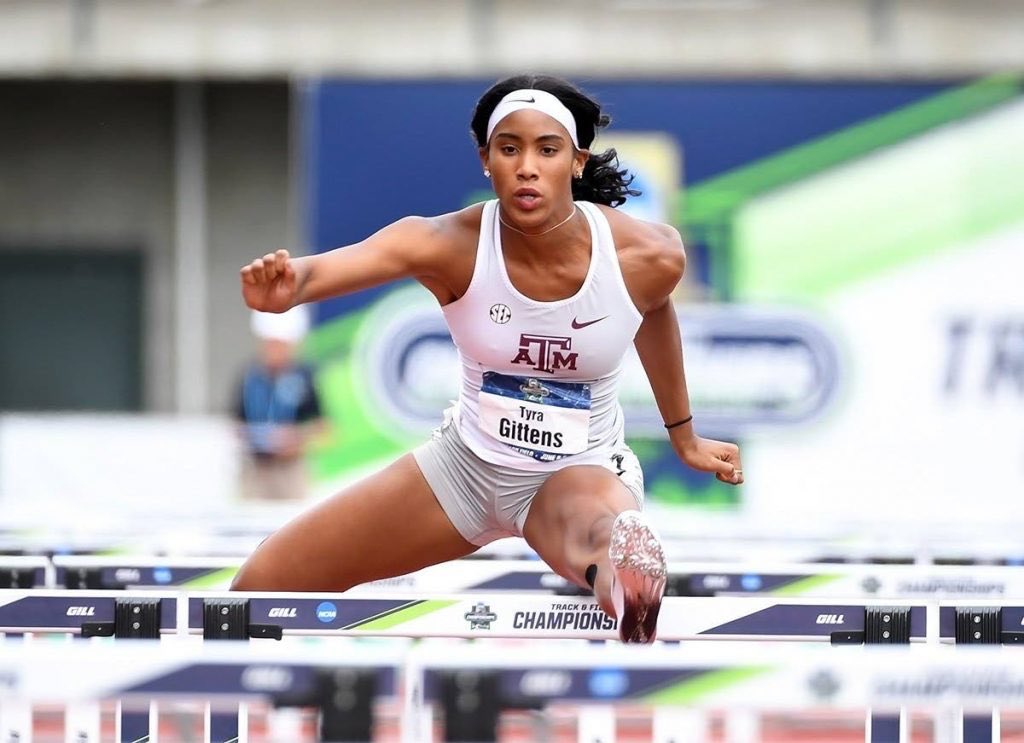 The heptathlon at the SEC Championships also saw some superb jumps results, with Trinidad & Tobago's Tyra Gittens recording 1.95m in the high jump and 6.96m (2.0m/s) in the long jump for the highest scoring jumps combination in women's combined events history.
Those results, worth 2330 points, helped the Texas A&M student athlete on her way to a world-leading PB of 6418 points to win the competition.
Her impressive tally of national records now includes the outdoor high jump (1.95m), indoor high jump (1.93m), outdoor long jump (6.96m), indoor long jump (6.68m), pentathlon (4746) and heptathlon (6418).
She also contested the individual long jump and finished fourth with a wind-aided 6.56m (2.8m/s) in a competition won by Deborah Acquah with a wind-assisted 6.80m (4.7m/s).
In her first outdoor 400m since 2019, and following her 1:57.73 800m in April, the USA's Athing Mu ran a PB of 50.04 in the heats of the one-lap event to move to second on the US under-20 all-time list.
Alabama's Eliud Kipsang ran 3:36.60 to win his 1500m heat by more than six seconds, while Tonea Marshall went quickest in the 100m hurdles heats, improving her PB to 12.52 (1.6m/s).
Tennessee's Latavia Maines threw a PB of 18.71m to win the shot put.
Nuguse runs 3:34.68
Yared Nuguse secured an Olympic qualifying time after a solo run in the ACC Outdoor Championships 1500m heats on Thursday (13) saw him break the NCAA outdoor record with a 3:34.68 PB.
The 2019 NCAA champion had won at Hayward Field the week before, clocking 3:35.96, but he was yet to achieve the 3:35.00 qualifying time for Tokyo, so that had been his target in Raleigh. The final is on Saturday.
Leotlela goes sub-10
Gift Leotlela ran his first wind legal sub-10 100m at the South African University Championships in Johannesburg on Friday (14), with the 2016 world U20 200m silver medallist clocking 9.94 (1.3m/s).
The 23-year-old, who formed part of South Africa's winning 4x100m team at the World Athletics Relays in Silesia earlier this month, had run 9.94 in April but with an over-the-limit 3.6m/s tailwind.
Source: Top jumps marks by Harrison and Gittens in Texas | REPORT | World Athletics