Diamond League to field track stars
2014-04-17 09:01 Global Times Web Editor: Wang Fan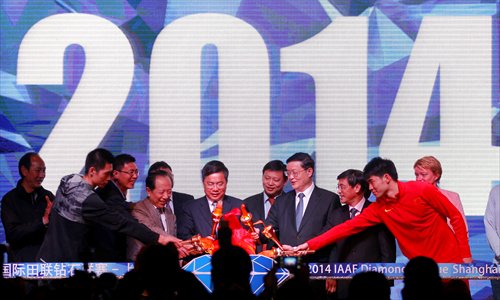 Representatives light a torch Wednesday at the opening ceremony for the 2014 IAAF Diamond League Shanghai. Chinese pole vaulter Yang Yansheng (second from the left) and 110-meter hurdler Xie Wenjun attended the ceremony. The track and field competition will start on May 18 at Shanghai Stadium. Photo: Yang Hui/GT
The 2014 IAAF Diamond League Shanghai track and field competition will begin on May 18 at Shanghai Stadium, the event's organizer said at a press conference Wednesday.
Shanghai is one of two cities in Asia that hosts the annual competition, which takes place over 14 meets around the world, according to Shanghai Golden Grand Prix Co Ltd, the competition's organizer.
The competition will be composed of 16 events, nine for men and seven for women.
The men will compete in the pole vault, the triple jump, the shot put and the javelin as well as the 100-meter, 800-meter and 5,000-meter races, and the 110-meter and 400-meter hurdles. The female athletes will compete in the 200-meter, 400-meter and 1,500-meter races, as well as the 3,000-meter steeplechase, the high jump, the long jump and the discus.
Two of the competitors are from China: Yang Yansheng, who won the pole vault event at the 2012 IAAF Diamond League Shanghai, and 110-meter hurdler Xie Wenjun. Xie was joined at the press conference by his coach Sun Haiping, who trained the former world champion hurdler, Liu Xiang.
World champion sprinter Shelley-Ann Fraser-Pryce will compete at the Shanghai meet this year.
She won the 100-meter race at the London 2012 Olympic Games, the World Championships Moscow 2013 and the 2013 IAAF Diamond League Shanghai.
Other big names include champion hurdler David Oliver, who won the 110-meter hurdles at the World Championships in Moscow last year; women's discus champion Sandra Perkovic and triple jump champion Christian Taylor.
Tickets to the event range from 120 yuan ($19) to 1,180 yuan. Fans can buy tickets online at dlsh.org or over the phone by calling 2422-7168.
To mark the competition's 10th anniversary, a photograph and video exhibit called Faster, Higher, Further: Heroes of Track and Field will run from May 17 to May 30 at the Jing An Kerry Centre. The exhibit aims to honor the achievements of track and field athletes across the world.
Diamond League to field track stars – Headlines, features, photo and videos from ecns.cn|china|news|chinanews|ecns|cns.