Can World Track & Field Boss Lamine Diack Rescue His Floundering Legacy? | Bleacher Report.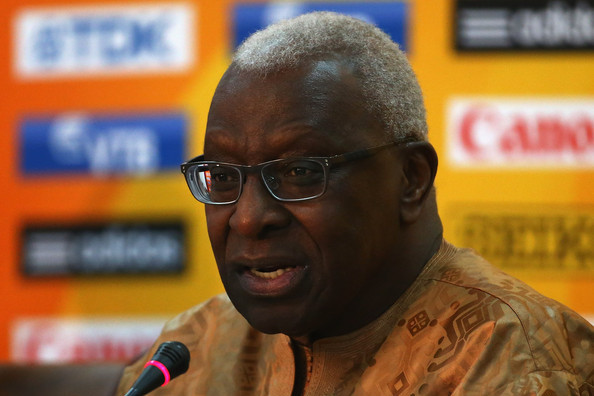 With next year's impending retirement from track and field's top job (president of the IAAF, track's international governing body), 81-year-old Lamine Diack had hoped to hand over a vessel with a record of smooth sailing and on a steady course for the incoming helmsman.
Instead, due to a series of recent media storms, his ship of state is currently listing heavily in rough seas.
Initially hit last week by a bombshell German TV documentary which alleged a massive state-endorsed Russian athlete doping program, the IAAF was still reeling when a secondary explosion directly implicated the governing body itself in accusations of a drugs cover up, as noted by The Telegraph.
It didn't help that Diack's own son, Papa Massata Diack, pressured by the appearance of impropriety, stepped down from his position as Marketing Consultant and IAAF senior anti-drug official, per the Press Association (h/t Mail Online). Dr. Gabriel Dolle also resigned after an internal ethics commission interview, as reported by the Guardian.
Adding to Diack's quickly tarnishing image is last month's highly controversial bidding process for the hosting rights to the 2019 IAAF World Championships. The winning bidder, Doha, Qatar, has been criticized for its last-minute multi-million dollar incentive offer and its questionable human rights record.
This must have been a particularly grievous wound, as Diack had long made known his desire to see (on his watch) the World Championships for the first time finally land on U.S. soil, home of the most dominant track and field team since the Worlds were instituted.
If Diack can somehow successfully navigate through these present troubled waters, there might be a way he can put a parting shine on his legacy.
But it will take some backbone and a wise use of the political capital built up by the sport of track and field over the last five decades.
Olympic Agenda 2020, which is International Olympic Committee president Thomas Bach's ambitious strategy for the future of the Olympic Games, was unanimously approved by the voting body earlier this week in Monaco. It is a preemptive formula for dealing with the inevitable changes coming to sport and is scheduled for implementation at the 2020 Tokyo Games.
One of the elements that will most directly affect track and field (and ultimately the IAAF) is a cap on total athletes (10,500) and total events (310). To stay within the limits of this cap and to allow for some new events to be introduced to the Olympics, influential IOC voting members have suggested eliminating certain track and field disciplines such as the 200-meter dash, the 10,000-meters, the shot put and triple jump.
Here is where Diack should make his stand. The current dire straits the IAAF finds itself in are—in spite of their seriousness—temporary when viewed in the big picture. Besides, with the investigations ongoing, the IAAF's position in this matter is essentially static for now. But to have the signature sport of the Olympics themselves chipped away, piece by piece, is a dangerous ledge from which to peer and would have irreversible consequences.
If President Diack needs a worthy diversion, this is it. He will certainly find allies in the many national track and field bodies under his umbrella as well as from the global headquarters of swimming and gymnastics, two fellow major Olympic sports also targeted for thinning by Agenda 2020.